Setup your camp in minutes
Convert your truck into a camper!
WHY BUY A TOPPER EZ LIFT
With the TopperEZLift you can turn any pickup truck into a tricked out go everywhere" pop-up camper" in a flash. This awesome camper package takes the truck bed topper that you already have and makes it into a versatile and secure camping shelter at a moment's notice.
• Affordable camper option
• Easy & Quick to setup
• Customize to your needs
• Awesome customer support
YOUR TRUCK WANTS ONE
WEEKENDER CAMPER PACKAGE
The Weekender Camper Package by TopperEZlift is the perfect addition to your short or long box pick-up truck, as it utilizes the tailgate to make extra room.

• Increases sleeping space
• Includes all tent material
• Includes 4 actutators
• Sets up in less than a minute
• Easy install and removal
• Works on any truck bed
TELL ME MORE
CONTRACTOR CAMPER PACKAGE
The Contractor Camper Package by TopperEZlift is perfect for long box pick-up trucks. It utilizes three side panels and the Contractor back, which has four pieces that zip together to combine into the whole back. If you don't need the extra space then the Contractor Package is a great option.
• Quick and easy to roll up
• Perfect for long bed trucks
• Includes all tent material
• Includes 4 actutators
• Sets up in less than a minute
• Works on any truck bed
GET FREE SHIPPING ON BOTH CAMPER PACKAGES
Topper Lift
Transform Your Truck Topper
TOPPER LIFT ACTUATORS
The TopperEZLift's Powerful Actuators work with any truck bed and topper configuration. They are very easy to install and remove, and you can transfer them from truck to truck.

• Lifts 900 pounds
• Raises topper 17.5 inches high
• Creates a larger opening to load large items
• Load your truck and lower topper down
**NOT designed to travel in the up position
YES, MORE HEADROOM PLEASE
Nomad Camper Package
Looking for something a little more simple and affordable. The Nomad package simply extends your truck bed space without raising the topper. This is a great solution for someone looking for a little more room when sleeping in the back of their truck bed.
YES, I WANT TO STRETCH OUT
Learn more about the TopperEZLift below
Walkaround Video
Easy Install Video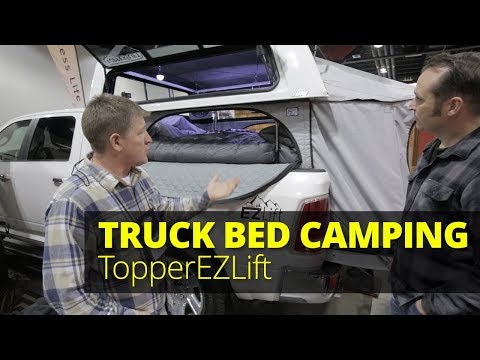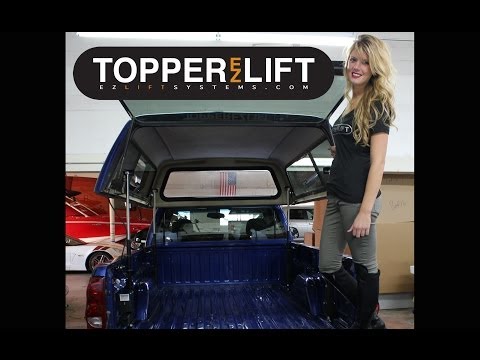 ABOUT TOPPER EZ LIFT
TopperEZlift welcomes you to 21st Century truck bed camping. No more of doing things your Grandpa's way. With TopperEZlift, truck bed camping reaches new heights, literally and figuratively.
The TopperEZlift is pretty much the most amazing thing that has ever come along in regards to tricking out your truck for camping. It is a self-install topper lifting system powered by your vehicle's 12-volt battery and operated with a simple-to-use safety switch and control box. Capable of lifting 900 pounds to a height of 17.5 inches allowing for easy access to all of your truck bed. When not in use, it seals firmly, making it worry-free.
As they say in those infomercials, "But wait, there's more!" The TopperEZlift works with your existing topper and comes in two camper packages which create a "pop-up camper" like shelter right from the bed of your pickup truck. The design Pros at TopperEZlift have put a lot of brain power into the design so that you can spend almost no time setting up your truck bed campsite and more time doing the outdoor activities that you love. With TopperEZlift wherever your truck can go, you can quickly and easily set up a comfortable and secure shelter. It truly does make truck bed camping EZ!